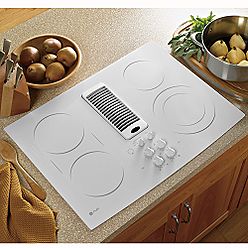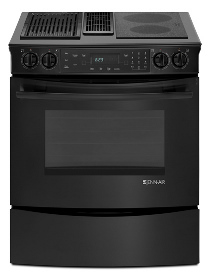 Downdraft Electric Range
Downdraft electric ranges give the modern home cook the most choices.
A downdraft electric range fills the need when it is not possible to use an exhaust system of some kind above a cooking range. This can be a real problem with cooking methods that produce lots of smoke--pan searing, grilling and stir flying being some common examples. A situation like this can arise when the range is installed in a kitchen island or peninsula and there are no walls to support exhaust ducts or the ceiling is too high to use an overhead exhaust hood. Downdraft electric ranges solve this problem quite neatly by blowing the smoke and grease vapors downwards with a powerful fan-powered draft (hence the name) and venting it outside the living area. The fan or blower unit can either be installed in the range casing itself, the floor below the range or even outside the house but the net effect is a strong downdraft that suctions the smoke and grease down and away from the cooking surfaces and out of the house.
If you would like to read about a typical and popular downdraft electric range, click here for our top pick.
Range sizes
Range sizes will have some bearing on how efficient the downdraft system works. Common sizes range from 24" to 48". Given all the variables--blower fan size, cost to run and noise levels being some--a larger cooking area will require more vent area near the cooking surface and more power to pull the smoke and grease away that a smaller one. While size selection should probably not hinge on this one aspect alone, the 30 inch or smaller downdraft electric stove seems to have the optimal performance and is also the most common size. Again, it is entirely possible as mentioned already to position a louder, more powerful fan and blower unit outside the living area and therefore have a much larger cooking surface without adding to the noise level indoors.
Vent types
There are two main types of downdraft ventilation grills on electric downdraft ranges--those that pop up in the back of the cooking surface when needed or those that are flush with the cooking surface. Of these, the pop-ups do a slightly better job than the flush ones since being higher off the cooking surface, they can catch and vent away more of the rising smoke, fumes and cooking odors. The flush grills tend to catch more cooking boil-overs and debris and make cleaning the vents more difficult. The one thing flush vents do have in their favor is their looks--they just look better.
Auto start switch
An electric downdraft range will come with either an auto-switch that turns on the downdraft fan as soon as the cooking element is turned on or with a manual switch that allows the cook to control when it is on. For all its usefulness, noise can be an issue with an electric range with downdraft and if the cooking does not involve production of smoke, for example while boiling an egg, this is a useful feature to have as it lowers both electricity usage and noise pollution. Another way to reduce noise is of course to install the fan-blower unit outside the house if it is feasible. Range-top hoods on 'regular' ranges don't have this option because the blower units are installed in the hoods themselves, very close to the users who cannot avoid the noise.
Slide-in, drop-in & cooktop
The most common type is the downdraft slide-in electric range which literally slides in between two carefully measured kitchen cabinet side units while the drop-in range is lowered into a prepared cavity in the cabinet itself. The former has the benefit of being able to slide out as easily as it slides in on rollers, thus allowing for easy cleanups periodically behind the range. The latter has the benefit of being integrated completely into the cabinetry and looking a part of it, with cooking surface rims that fit flush with the counter top making it easier to clean. A downdraft electric cooktop on the other hand, allows for maximum freedom of kitchen design since it is not attached to an oven and can therefore be located on almost any flat surface. Currently, the 30" downdraft slide in electric range is the most popular and common model.
Electric vs gas downdraft
Professional cooks famously prefer gas stoves over electric for the instant control over heat applied on a cooking vessel that gas gives them. While this is certainly a very important benefit for a serious cook or budding chef, it is debatable how valuable it is for 'everyday' home cooks given the many other benefits of an electric range with downdraft ventilation. The biggest advantage of electric over gas is the fact that it is much easier to clean an electric cooking surface than it is gas. This is true even with the older coil element cooktop but is specially so with today's sleek ceramic induction cooktops. These newer cooktops allow for touch-control surfaces that do away with knobs and switches that can get in the way and collect kitchen dirt. One disadvantage of electric is that the heated surface cools slowly and not instantly as with gas and this can be a safety hazard, even with a red sensor warning light.
The downdraft electric range and downdraft venting for cooking in general was pioneered by Jenn-Air in the 1940s and the company is still a leading manufacturer of cooking ranges, both gas and electric. Their invention has given us the freedom to place our cooking ranges anywhere in the kitchen without regard to the range hood exhaust and its supporting vent system. The Jenn Air downdraft range has been one of the most respected models on the market for many decades. Other manufacturers who also are highly rated are GE, Amana and Maytag, all of which have their models available in brick-and-mortar and online stores like Sears, Lowes and Walmart as well as other retailers.